We are zeroed in on the energy use!
26 – 27 January 2012, Kick-off of CEC5 project in Ludwigsburg, Germany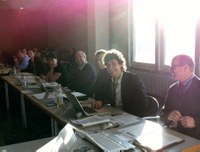 CEC5 project that has been approved within the CENTRAL EUROPE Programme Call for Strategic Projects under Priority no 3: Supporting the Use of Renewable Energy Sources and Increasing Energy Efficiency kicked-off in January this year. The project which started in October 2011 is led by the VLBG Regionalentwicklung Vorarlberg eGen from Austria in the cooperation with 12 partners from 7 countries, namely: the Czech Republic, Germany, the Republic of Slovenia, Italy, Hungary, the Slovak Republic and Poland.
The aim of the endeavour is to create a common pool of knowledge in the field of use of Renewable Energy Sources and energy efficient solutions. The project partners will develop transnational baseline to energy efficiency buildings, define further needs of building certification, build 7 demonstration near-zero energy facilities to test and display the theory in practice and thus promote the EE approach . Additionally, transnational trainings shall be done and the strategy to ensure the on-going development of the standards with the creation of a Transnational Observatory platform will be developed.
The public buildings should be models of near-zero energy excellence so we start here and wish to provide recommendations for others.
This one time zero energy can be our goal!